Māori Health Promotion webishops
Check out our webishops on YouTube to help build your knowledge of Māori Health Promotion.
Like, Follow, Subscribe and Share
Promoting Health in Aotearoa New Zealand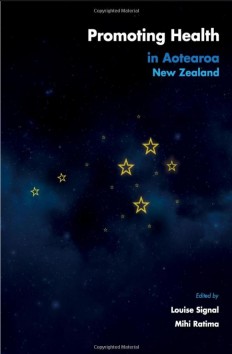 Promoting Health in Aotearoa New Zealand
Louise Signal (Editor) and Mihi Ratima (Editor).
SYNOPSIS:
The health of the planet – and all of us who live on it – is under dire threat from factors such as climate change, obesity and new infectious diseases.
Progressive health promotion is an approach that can counterbalance these threats with practice, policy and advocacy for health, well-being and equity.
Promoting Health in Aotearoa New Zealand provides a rich scan of the health promotion landscape in New Zealand.
It explores ways in which Māori, and other, perspectives have been melded with Western ideas to produce distinctly New Zealand approaches. In doing so it addresses the need for locally written material for use in teaching and practice, and provides direction for all those wanting to solve complex public health problems.
Read more and to purchase HERE.