OPINION: A Transparent Tiriti for Hauora
by Na Chris Webber
Dear Koro, thanks for signing Te Tiriti o Waitangi for us - we still believe it's the way to build our nation, there's just a few eggs in the way stopping our part - could you sort them out. Aroha tino nui - 4th great moko.
My suggestion this Waitangi Day, as Treaty/Tiriti engagement ramps up to heady heights, is to weed out the smoke and mirrors from true Tiriti partnership. A groundswell convention - use Te Tiriti (in capitals) if you are referring to the actual agreement based on the reo Māori text. Use The Treaty (in capitals) if you are referring to the English document no-one agreed to. Lower case or verbal references to the treaty/te tiriti in either language are clarified by additional context.
Government and those it funds are painted into a corner of one treaty based on two texts, so documents starting with 'Te Tiriti/The Treaty' as first mentioned can go on talking about 'Te Tiriti' without meaning the actual Tiriti. Doing Tiriti work, applying for funding or engaging with Māori should be transparent - NGOs are leading where the Government can't by stating their commitment to Te Tiriti o Waitangi (reo Māori text) as their guide, then continuing the journey of what that means. This should help tangata whenua decide if engagement is likely to lead to their Tiriti outcomes or not.
Maybe the ultimate health promotion strategy, Te Tiriti envisages hauora for all, whilst The Treaty (English language document) seems to bring harm, inequalities and dysfunction - proven repeatedly and needing to change.
It's nothing new this Waitangi Day as others plan fun outings on their day off, I'm pushing aside my backlog to tackle another impossible Māori land situation. This time it's to protect the resting place of our koro Te Rangihiroa's whanau from the effects of poor government land laws. He signed Te Tiriti at Kapiti and his grandson Wi Parata, tribal leader on the Kapiti Coast and Māori politician in Cabinet in the 1870s, took the well-known 'treaty nullity' case. Ka whawhai tonu matou.
Our people maintained tino rangatiratanga in the Kapiti area and agreed to and signed the reo Māori document Te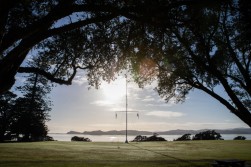 Tiriti o Waitangi (Te Tiriti), which doesn't cede sovereignty to the Crown. The idea there's an English text document ceding sovereignty, entitled The Treaty of Waitangi (The Treaty), as part of the treaty agreement doesn't wash.
Current Waitangi Tribunal findings that Ngā Puhi didn't cede sovereignty in signing Te Tiriti, is likely to set-off a wave - so it helps to refocus on the reo Māori text. Looking past the smoke and mirrors, you will find Māori only agreed to and signed Te Tiriti - with one exception at Waikato-Manukau where 39 agreed to the Māori terms, but only had an English translation to sign - even their descendents today don't believe the English Treaty was agreed to. Curious how today even the courts and Tribunal are required to use flexi-principles to align the two conflicting texts that slows the loss of colonial power grab - and few can tell if you mean to honour Te Tiriti or The Treaty. Time for change?
To end on a sandpit metaphor - Māori agreed, 'you can share this sandpit (Aotearoa) if you behave well (article 1), don't take my toys without asking (article 2) and share your toys too (article 3)'. The newcomers broke the rules, causing trouble until intervention is triggered by an adult, at the risk of ending playtime. Extending this kawa from sandpit metaphor, the higher intervention could include courts, collective conscience or domains of Atua or 'mother nature' punishing mankind.
So what's going on in the sandpit to fix before more intervention happens?
(karakia) E koro - can you talk with their tupuna too and lift our collective consciousness before playtime is over? Ngā Mihi.
Tuia i runga, Tuia i raro, Tuia te here tangata, Tūturu o whiti, Whakamaua kia tina, Haumi e, hui e, Taiki e!
Unite the celestial energies, Unite the terrestrial energies, Bind the kinship strands of humanity, Permanent, consistent are the fibres of light, Draw to a single point and give them substance, The wisdom is bound, collected. It is held!
Chris Webber is from Kapiti Coast ART Confederation tribes Ati Awa, Ngati Raukawa, Ngati Toarangatira and a member of the HPF Māori advisory group.