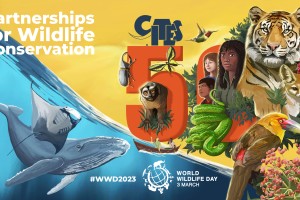 Act now to protect our wildlife
'We need to place the voices of local communities and indigenous people – our world's most effective guardians of biodiversity – front and centre if we are to protect our planet,' says United Nations Secretary General António Guterres.
Guterres who made the comment to mark World Wildlife Day on Mar 3 said the day was not only a time to reflect on our responsibility to protect the magnificent diversity of life on our planet, but also to recognise 'our abject failure'.
This year's theme, 'Partnerships for Wildlife Conservation' – highlights that we need to work across governments, civil society, and the private sector to turn commitment into action.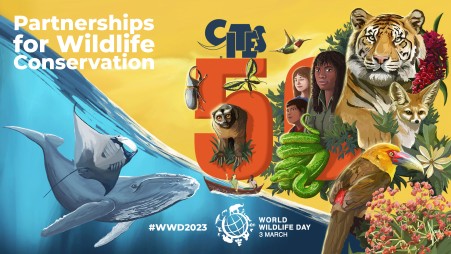 Billions of people around the world benefit daily from the use of wild species for food, energy, materials, medicine, recreation, inspiration and many other vital contributions to both our physical health and wellbeing.
However, the accelerating global biodiversity crisis, with a million species of plants and animals facing extinction, threatens these contributions to people.
In Aotearoa the challenges facing nature need our attention now more than ever, and according to the Ministry of Conservation, around 4000 species are threatened or at risk of extinction. Important habitats are still being destroyed, and our climate is in crisis.
'Human activities are laying waste to once-thriving forests, jungles, farmland, oceans, rivers, seas, and lakes," said Guterres. 'One million species teeter on the brink of extinction, due to habitat destruction, fossil fuel pollution and the worsening climate crisis.'
HPF's Executive Director, Sione Tu'itahi said the underlying cause of all these environmental crises was us, humans.
'The quicker we learn to love and live harmoniously with each other, and within the rhythmic cycle, and sustainable capacity of Mother Nature, the quicker these existential challenges are addressed. It's about moderation, and balance.
'Science and technology help, but it must be coupled by ethical and spiritual alignment, if policies and practice are to be effective. Everyone has a part to play, the individual, communities, and institutions. It must be a societal collaboration.'
Mr Tu'itahi said the primary focus on economic growth and measuring progress by GDP only was what has led us to our current local and global crisis.
'There should be a mind shift and a heart shift on the part of all – the individual, communities, and institutions,' he pointed out.
'A wellbeing framework, as described in the 2021 Geneva Charter for Wellbeing, and the 2019 Rotorua Legacy Statements, which include physical, mental, spiritual, socio-economic, and ecological dimensions, should now inform our thinking and action. Sadly, if we do not reframe, Aotearoa will continue to face environmental challenges such as the recent devastating floods and cyclone that we are recovering from," added Mr Tu'itahi.
Guterres said the good news was that we did have the tools, the knowledge, and the solutions.
This year marks the 50th anniversary of the Convention on International Trade in Endangered Species, which has helped protect thousands of plants and animals. It will allow us to celebrate all conservation efforts, from intergovernmental to local scale.
And last year's agreement on the Kunming-Montreal Global Biodiversity Framework marked an important step towards putting our planet on a path to healing.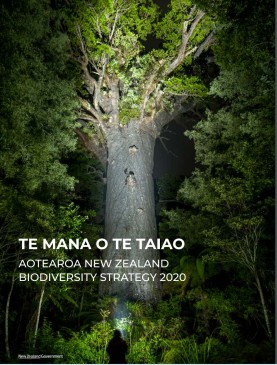 In New Zealand, The Aotearoa New Zealand Biodiversity Strategy - Te Mana o te Taiao, sets a strategic direction for the protection, restoration and sustainable use of biodiversity, particularly indigenous biodiversity.
Te Mana o Te Taiao will also provide strategic direction for sectors and groups to implement independently. For example, an industry body could align its environmental or biodiversity strategy to Te Mana o te Taiao, and community organisations could use both Te Mana o te Taiao and their regional strategies to guide their activities.
Minister of Climate Change James Shaw said tackling the biodiversity crisis goes hand-in-hand with tackling the climate crisis. 'But for decades, successive governments have approached these issues separately.
"We are changing that to better harness the power of nature to reduce greenhouse gas emissions and also help us adapt to the impacts of climate change".
The strategy will be reviewed and updated as new information and data comes in, including any emerging threats.
WATCH THE VIDEO '
World Wildlife Day 2023 - Partnerships for Wildlife Conservation'
HERE.
READ/DOWNLOAD: 2019 ROTORUA WORLD CONFERENCE HEALTH PROMOTION LEGACY STATEMENTS:
(The photos below are just some of Aotearoa's wildlife species which are under threat. They were captured by volunteer guide Lavinia Cruickshank on Tiriti Matangi, one of New Zealand's oldest island sanctuaries. Tiritiri Matangi is brimming with wildlife rarely seen on the mainland.)
Photos: ©LaviniaCruickshank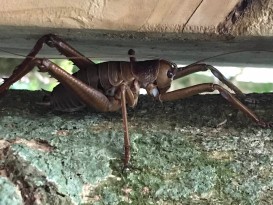 Wētā have become icons for invertebrate conservation in New Zealand because many species are threatened or endangered. There are more than 100 species of wētā in New Zealand, 16 of which are at risk.
(DoC)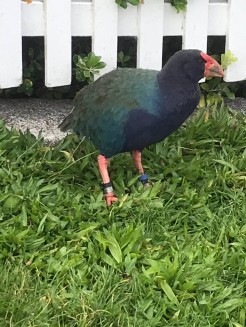 The flightless takahē is a unique bird, a conservation icon and a survivor. Conservation status: Threatened–Nationally Vulnerable
(DoC)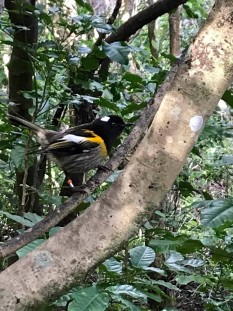 Stitchbird/hihi is a medium-sized forest species that is one of New Zealand's rarest birds.
Conservation status: Threatened–Nationally Vulnerable
(DoC)