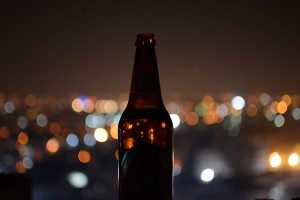 Alcohol law change to give communities more say
The Sale and Supply of Alcohol (Community Participation) Amendment Bill, which last week passed its third reading in Parliament under urgency, has been welcomed by public health experts as a step in the right direction.
While there was still much more to be done to reduce alcohol harm in this country, the Bill which was one small step away from becoming law, would give communities a greater say about how alcohol was sold in their neighbourhoods.
Alcohol Healthwatch Acting Executive Director Rebecca Williams said removing the appeal provisions of Local Alcohol Policies (LAPs) was central to the changes. This along with the other changes would help to level the playing field for decision-making on alcohol in local communities.
"Currently the law is not delivering on its aim to minimise alcohol-related harm, or its intent to give communities a greater say on when and where alcohol can be sold in their community. Instead, those with vested interests and deep pockets have been using the appeal provisions in the current legislation to stymie attempts by local councils to respond to community requests for better controls on the sale and promotion of alcohol in their neighbourhoods."
Williams said communities who were attempting to reduce the burden of alcohol-related harm were grossly disadvantaged by the current legal framework, and the changes would go a long way towards finding a better balance.
However, there was still some way to go, she added. "Our sector is united in the importance of achieving further law changes, including embedding Te Tiriti o Waitangi into alcohol legislation, realising alcohol advertising-free environments, and reducing the affordability of alcohol."
Health Coalition Aotearoa co-chair Professor Boyd long Swinburn said: "For too people have had no way to make their communities healthier by reducing the number of cheap alcohol outlets which are swamping many disadvantaged neighbourhoods."
LAPs were intended to give more control to communities over alcohol availability, to reduce immense harm from drinking as successive governments failed to implement wider, protective measures.
But the government that passed the current alcohol legislation handed control over the LAP process to the alcohol industry via the appeal process, enabling those who profited from alcohol harm to stall or stop their development.
"It was virtually impossible for Councils to adopt the Local Alcohol Policy that they had developed with their communities because of the need to fight appeals from the alcohol industry," HCA Rōpū Apārangi Waipiro (Alcohol expert panel) member Professor Jennie Connor said.
"Now that avenue has been closed and Local Alcohol Policies will be able to reflect the needs of the people affected."
Minister of Justice Ginny Andersen said these changes would mean people were not excluded from having their say about the way alcohol was sold in their local communities.
"We know many communities are struggling with the widespread and damaging effects of alcohol-related harm. By changing the law in this way, we are empowering communities to have their say."
Māori Public Health experts at Hāpai Te Hauora acknowledge the passing of the legislation, but added that it fell short of the comprehensive, system-wide change needed to ensure whānau and hapori were protected from alcohol harm.
"The passing of this legislation represents a step in the right direction, but it is clear that the Government has chosen a path that feels like the easy way out," said Jason Alexander, Hāpai Te Hauora Interim CEO.
"The comprehensive, system-wide reforms needed to protect whānau and hapori from alcohol harm should have encompassed more thorough considerations.
"By not including measures to address issues like the pervasion of alcohol advertising in sports arenas and sports sponsorship, the Government may have missed a vital opportunity to create a stronger public health response to alcohol-related harm in Aotearoa," he said.
On a positive note, Tara Dymus, General Manager of Māori Public Health said wins like this were a testament to the persistence of whānau, hapori, and sector partners in fighting the battle against alcohol and the associated harm.
"The passage of this bill is a testament to the relentless advocacy of our communities. It's a step forward, but the real political challenge lies ahead. We expect, and will hold, the government accountable to take bolder actions to stem the tide of alcohol harm, particularly within our most vulnerable communities."
The bill makes a number of changes including:
Allowing any person or group to object to a licence application, with a narrow exception for trade competitors
extending the timeframe for objecting, to give people more time to prepare evidence
removing the ability for parties to appeal provisional local alcohol policies
removing the ability to cross-examine at alcohol licensing hearings
(Photo by Eeshan Garg on Unsplash)