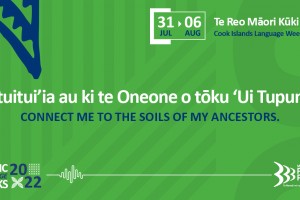 Celebrating Cook Islands Language Week
Kia Orāna kōtou kātoatoa!
The theme, 'Ātuitui'ia au ki te Oneone o tōku 'Ui Tupuna means 'connect me to the soil of my ancestors'.
This reflects the journey of Cook Islands peoples in Aotearoa, as well as the longing of young Cook Islanders to connect with their language, culture, and identity. This connection is vital for the health and wellbeing of Pacific people, as a loss of language can lead to a loss of culture and identity.
"Focusing on this theme for a second year allows us to 'iriiri manako' or think hard on it, and deeply examine what this means in terms of the retention of Te Reo Māori Kūki 'Airani language and Pe'u Māori culture," said the Minister for Pacific Peoples Aupito William Sio.
"In some ways, it serves as both as a warning; elders with the institutional and historical, and deep understanding of the language and culture are passing away, and that knowledge is being lost. At the same time, it provides an opportunity to capture their stories for perpetuity so future generations can benefit and celebrate this indigenous knowledge."
Classified as vulnerable by UNESCO, only nine per cent of the Cook Islands people speak the language.
The theme reflects the overarching 2022 Pacific Language Week theme of Sustainability, by linking the importance of language sharing and cultural heritage being handed down over generations.
Stay connected online by visiting the official Cook Islands Language Week 2022 page HERE.