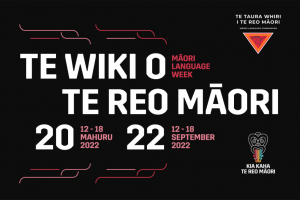 Celebrating Te Wiki O Te Reo Māori
Kia Ora and Kia Kaha te Reo Māori! It's Te Wiki o Te Reo Māori/ Māori Language Week 2022, a week in which we embrace, celebrate and reclaim the Māori language and culture!
This year is also extra special as Wednesday, Sep 14 will mark the 50th anniversary of the Māori Language Petition (Te Petihana), an event that led to many of the kaupapa we have today, including Te Wiki o te Reo Māori.
Te reo Māori, became an official language in 1987, with New Zealand Sign Language added in 2006.
According to Stats NZ Tatauranga Aotearoa New Zealanders are getting better at speaking te reo Māori and are more supportive of its use in day-to-day life.
Data from the 2021 General Social Survey (GSS), collected between April and August 2021, showed that the ability of New Zealanders (aged 15 and over) to speak te reo Māori in day-to-day conversation had improved.
Since 2018, the proportion of people able to speak more than a few words or phrases of te reo Māori rose from 24 per cent to 30 per cent.
Stats NZ Tatauranga Aotearoa's Work and Wellbeing Senior Manager Becky Collett said the data showed a welcome improvement in New Zealanders' ability to speak te reo Māori.
"We can see from the data that younger New Zealanders are championing improvements in te reo Māori proficiency and support," Ms Collett said.
"This gives important insight into the ongoing revitalisation of te reo Māori in Aotearoa."
Wellbeing principal analyst Dr Claire Bretherton said preserving te reo Māori had many aspects that helped improve Māori wellbeing.
The Government has set a goal to have one million Kiwis fluent in te reo by 2040.
Everyone is welcome to join a national commemorative event at Parliament to mark the anniversary from 11:30am – 1pm on Wednesday. The event will be livestreamed, and you can find out more HERE.
For more info, resources and to share your stories, experiences and memories of te reo and how you're going to celebrate check out the official website.