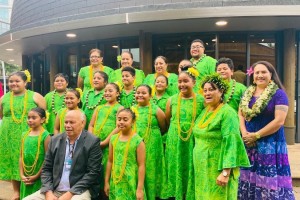 Research centre first to focus on Pacific health
Aotearoa's first research centre, aimed at bringing Pacific communities, researchers, scholars, regional and global organisations together to promote the health and wellbeing of Pacific populations, was launched last week.
Te Poutoko Ora a Kiwa, Centre for Pacific and Global Health will be one of seven new transdisciplinary research centres at the University of Auckland hosted by the faculty of Medical Health Sciences.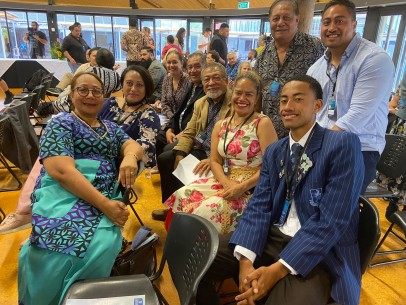 HPF's Deputy Executive Director Health Promotion (with Portfolio in Pacific Island development) Dr Viliami Puloka [Pictured seated 3rd fr right] who was at the launch event at the university's Fale Pasifika welcomed the centre saying anything that contributed to growing Pacific health and wellbeing was a 'good move'.
Dr Puloka said the objective and purpose behind the centre, including to build capacity for Pacific research and the mining of Pacific data, was excellent.
'It's great to see the centre being embraced at a higher level and the University recognising Pasifika peoples as a significant population of New Zealand.'
He added that working in partnership would be important for the centre and that it must ensure that it continues to remain Pacific-focused
Sir Collin Tukuitonga, one of the directors of the Centre said the aim was to "transform and positively impact" Pacific health through high-quality and implementable research in Aotearoa and across the region.
'It will foster cultural exchange, empower local communities, and provide training opportunities to develop and strengthen Pacific research leaders,' he said.
Focus areas will include health and ethnic inequities, alongside building capacity for collective gains across the region, among Pacific communities.
Te Poutoko Ora will also be led, alongside Sir Collin, by University researchers Dr Judith McCool and Dr Roannie Ng Shiu. Former director general of health, Professor Ashley Bloomfield is also the chair of the advisory board.
Dr Ng Shiu reflected on the importance of the centre name, gifted by the University's director of Māori medium education, Hēmi Dale.

'Te Poutoko Ora a Kiwa speaks to our focus on developing Pacific leaders to create solutions for health the wellbeing of populations in Aotearoa, the Pacific and the globe,' Dr Ng Shiu says.
"To do this we build on the legacies and hard work of Pacific pioneers and communities who came before us, to ensure we continue a legacy that future generations can be proud of."
The name Te Poutoko Ora a Kiwa means health and vitality in leadership. It also connects to Moana nui ā Kiwa, the Pacific Ocean. Conceptually there is a legacy with whakawhanaungatanga and shared whakapapa with Ngā moutere o Moana nui ā Kiwa (the islands of the Pacific).
The centre will be funded for five years and will see a core group of people working on different projects.
The centre will also focus on research into health issues that affect Pasifika – diabetes, heart disease, obesity and outbreaks such as Covid-19.
Other issues to be looked at closely are mental health and the impact of climate change on health in the Pacific region.
The centre is carrying out a mental health study in Polynesian countries and has just completed one in Samoa. Researchers will be heading to Tonga next.