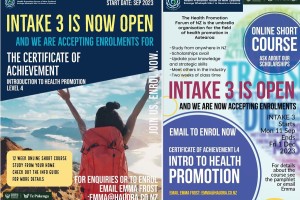 CoA 'perfect introduction to health promotion'
The feedback from students who have attended HPF's online short course in health promotion has been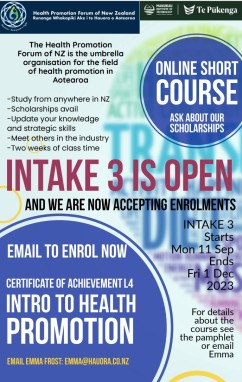 overwhelmingly positive.
Comments ranged from 'this course has given me the knowledge and confidence to work better for the people. Love this mahi' to 'the course was a refresher for me but this time around, I had learnt new things and understood them in a different perspective'.
A number of students said the course also taught them the difference between health promotion and health education, and how to apply Te Tiriti o Waitangi and the Ottawa Charter strategies to health promotion practice.
Now you too can learn more about the role and importance of health promotion, as registrations are now open (see below for link) for Intake 3 of the Certificate of Achievement in Health promotion (CoA) jointly offered by Manukau Institute of Technology (MIT).
A common theme in the response from students was that the course was an eye-opener, and the perfect introduction to health promotion.
Ashton Brown, Kaiārahi - Whānau Manahou, Ngā Waihua o Paerangi (pictured) said the determinants of health was a new

concept for her.
'There was some level of understanding about how a person's environment impacts on them. Understanding the determinants of health has been great because it has highlighted things like equity, and what is fair for all, may still disadvantage whānau if they lack a foundational security and stability,' she said.
'It has given me a higher perspective about the whakapapa to a person's state of wellbeing and how the determinants of health influence many generations. It has made me more mindful and intentional in my assessment and reflections with whānau.'
For Pearl Wilson, Student Care & Conduct Team Leader at the Crown Institute of Studies the course was thought-provoking and illuminating.
'I learned so much. I have and would recommend this course to anyone who wants to help others increase control over and improve their health,' said Pearl.
Tania Smith – Kaiāwhina/Kaiatawhai, Community and Service Support/Heath Promotion and Prevention, Te Piki Oranga found the course a perfect introduction to health promotion and very grounding for her mahi.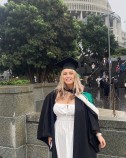 Health promoter, Emily Guyton (pictured) said the course was a great refresher for her, and she was able to relearn the key parts of health promotion.
'It also allowed me to further my education around Te Tiriti o Waitangi in a supportive learning environment.
'I highly recommend the CoA to others working in the health promotion and public health field.'
Meanwhile, some students did find doing the course online a bit challenging, especially when it came to group presentations and technical hiccups.
'Working with others for the group presentation was quite challenging due to language difficulties, technical difficulties and the distance between us physically,' said Ashton.
Please ensure you have a good Wifi connection and hardware, such as a computer or laptop.
If you'd like to read more about the course content, costs and tutor click HERE.
You can register HERE.
The dates for the course are:
Block One: 3-6 Oct, 2023
Block Two: 31 Oct - 3 Nov, 2023
Scholarships for this course are available. Contact Emma Frost at emma@hauora.co.nz for more information.