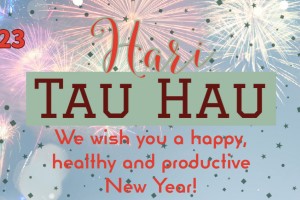 Looking forward to the New Year
Hari tau hou tātou kātoa - Happy New Year everyone!
We're back from our break and looking forward to a productive 2023. We hope you had a good rest over the festive season and managed to refocus on your health and wellbeing and are now ready to take on anything the New Year brings.
An exciting development for HPF and for health promotion this year will be the establishment of the National Accreditation Organisation (NAO) for Aotearoa New Zealand.
The approval of HPF by the International Union for Health Promotion and Education (IUHPE) to become an NAO is a 'significant milestone' for health promotion in this country'.
Expected to be in operation by the second half of this year, the new service will assess and formally acknowledge health promoters who will register – for their professional integrity and ongoing development, while the wellbeing and safety of the community is ensured.
Meanwhile, under the same system, educational institutions that teach health promotion at degree level will be given a similar recognition by IUHPE itself, if they wish to join this accreditation process.
Also significant is that IUHPE has accepted Te Tiriti o Waitangi and the socio-political and cultural contexts of our country, as unique components for our own framework in New Zealand.
"In a globalised society with a very mobile health promotion workforce, it is very timely for NZ health promoters to be part of a global framework that is the only system for the whole world," says Sione Tu'itahi, HPF's Executive Director.
We'll be keeping you updated on the progress of the NAO through our social media platforms and website.
Click HERE to read more about the IUHPE Health Promotion Accreditation System.
On the professional front, two webishops have been scheduled for Wed, March 22 and Wed, May 24.
More details, including the registration link, will be sent out a few weeks prior to the webishops.
Dates for the Certificate of Achievement in Introducing Health Promotion Level 4 (CoA) offered by HPF, and the Manukau Institute of Technology have been scheduled and the dates for Intake One are:
BLOCK ONE: Tue 11 Ap r to Fri 14 Apr
BLOCK TWO: Tue 9 May to Fri 12 May
The dates for the next CoAs will be published in our monthly notice Te Rongo which is sent out on the 20th of every month.
We invite our members to send notices for job adverts, courses, webinars or other events at least a week before Te Rongo is published.
Meanwhile, pages for our new and revamped website which was launched in June last year are still being developed, we ask that you bear with us as we work towards completing pages and uploading resources and information.
For any enquiries, please contact us at at hpf@hauora.co.nz or phone Emma Frost at 09 300 3071