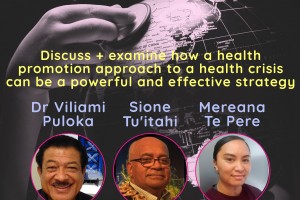 Webishop to focus on health promotion and pandemic
The value and effectiveness of a health promotion approach when tackling and making sense of a health crisis like a pandemic will be highlighted at our next webishop on October 20.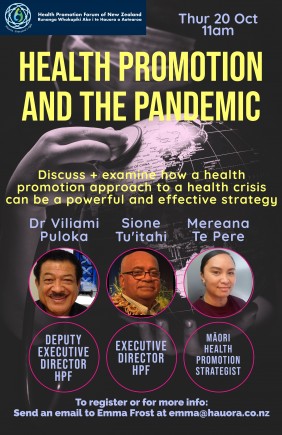 The webishop will discuss the Ottawa Charter in relation to Māori health approaches and perspectives to Covid-19 in Aotearoa.
It will also examine the power of a human rights and planetary health approach and includes an open discussion around solutions looking ahead.
Key topics:
The foundations of health promotion with a Māori perspective
Health Promotion Competencies
Human Rights and Planetary Health approaches
The digital divide – what this means for equity
Register HERE.
"The measure of a strong person is not where they stand in times of comfort, but in times of challenge" - Martin Luther King Jnr
About the speakers:
Sione Tu'itahi - Executive Director - Health Promotion Forum of NZ
Sione is also the Global President (and first Indigenous person to hold the position) of the International Union for Health Promotion and Education (IUHPE).
An educator, writer, and international health promotion leader, his areas of interest in health promotion include planetary health, determinants of health, human rights, community development, public policy, and workforce development.
Mereana Te Pere - Māori Health Promotion Strategist
Mereana has worked in the education sector with Māori and rangatahi. She recently graduated with a Masters in Educational Leadership with First Class Honours from Auckland University of Technology. She was also honoured with the Deans List award for academic excellence.
Dr Viliami Puloka - Deputy Executive Director – Health Promotion Forum
Pacific Health Promotion Strategist
A Public health physician with a special interest in diabetes and obesity, Viliami brings with him a wealth of Pacific experience; combining his clinical skills and his public health knowledge. He has gained a broad social and cultural appreciation from working with the diverse and unique islands of the Pacific.
He has a strong multi-sectoral experience and programmatic approach in capacity-building, project management and community development.
Registration costs: