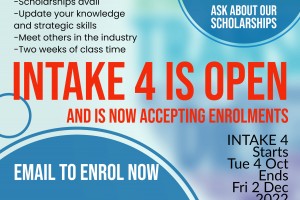 Health promotion course an eye-opener
Students who participated in our last online short course in health promotion say the course gave them a better grasp of health promotion, as well as the skills and knowledge to help them in their everyday mahi.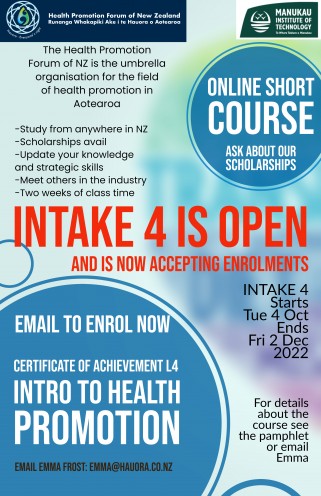 In their evaluation of the Certificate of Achievement in Introducing Health Promotion (CoA) they also shared about how the course allowed them to expand their networks, by meeting others in the health sector.
"I can't pick one part. The whole thing was valuable," wrote one student about the CoA, which is jointly offered by HPF and the Manukau Institute of Technology.
Another student wrote: "I thoroughly enjoyed the course, teachings and meeting other people from around Aotearoa. People who have been doing this for some time and those of us who have just begun our journeys."
If you too would like to learn more about the principles, concepts and practice of health promotion, and expand your networks within the health sector, secure your space now and register HERE.
Dates for intake 4 of the CoA are Block One from Oct 18 – 21 and Block Two Nov 15 – 18, 2022.
Complete the online registration and contact us for an enrolment application form or download the application from our website and return by day one of Block One (Oct 18).
EXCLUSIVE OFFER! For HPF members only - be sure to take advantage of a limited number of scholarships for the course. To enquire about a scholarship and for more details email Emma Frost at emma@hauora.co.nz
Read more about the course
About the tutor:

Mereana Te Pere joined HPF in 2020 as the Māori Health Promotion Strategist. Before joining HPF she worked in the education sector with Māori and rangatahi. She recently graduated with a Masters in Educational Leadership with First Class Honours from Auckland University of Technology. She was also honoured with the Deans List award for academic excellence. Her dissertation focused on the challenges for Māori education leaders within the Aotearoa prison system. She aims to base her future doctoral studies around Māori Health Promotion.
Her professional and personal aspirations have centred around developing and advocating for strategies that achieve educational success for Māori, with a focus on supporting Māori learners disenfranchised from traditional methods of schooling and learning. Her future goals are in elevating the skills and knowledge of the workforce to better meet the health needs and rights of Māori communities and whānau. And to influence organisations through governance and healthy policy. Through health promotion Mereana aims to enable Māori communities to achieve a more sustainable and better quality of life.