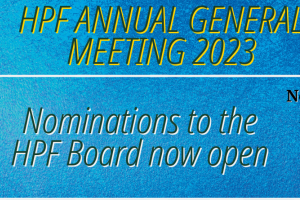 Save the date
We invite our valued members to come and join us at HPF's online AGM, which is scheduled for Thurs Nov 16 where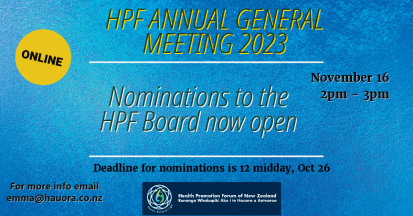 we'll share what has been achieved over the past year, as well some exciting developments in the pipeline.
HPF has one Board position up for election as we farewell Sharon Kennedy-Muru who completes her third and final term with the Board. We welcome nominations from our member organisations throughout Aotearoa. This position is for one 'Other' member as Māori, Pacific and Asian are filled.
If you know someone who has the governance skills and experience to steer the direction and contribute to the advancement of Health Promotion in Aotearoa, get your nominations in before the deadline which is 12 midday, Oct 26.
Nomination forms, along with the AGM notice, which includes the Zoom link and other relevant documents, have been sent out to members.
Board members don't have to belong to an HPF Member. They can self-nominate BUT they must have their nomination endorsed by a financial member organisation.
This is a fantastic opportunity to be a member of an exciting and incredible Board of passionate and expert health promoters!
To find out if you're a financial member and for more info email emma@hauora.co.nz or phone: 09 300 3734.
Written notice of any remits that a member wishes to raise at the AGM must be received by Thursday 2 November 2023, at least 14 days before the meeting.
Proxies must be received no later than 3pm, Wednesday 15 November, 2023.
Nominees to the Board should have the following attributes:
Commitment to Te Tiriti O Waitangi and the values and purposes of the Health Promotion Forum of New Zealand
The ability to think strategically
Particular areas of expertise that can contribute to the governance of the organisation, eg: leadership, finance, social policy, legal, communications, community development knowledge etc.
Understanding and commitment to the Board's fiduciary duties
Agreement to abide by the protocols and responsibilities of the Board
The ability to work well in a team
The time to attend to Board work (four one-day meetings per annum; meeting preparation; and occasional teleconferences and working party contributions as needed).
No criminal convictions (in terms of Clean Slate Act 2004)
No direct conflicts of interest in fulfilling the role of Health Promotion Forum of Zealand Board member