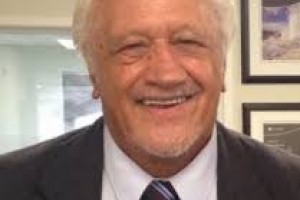 HPF joins nation in paying tribute to Sir Toby Curtis
HPF has joined the nation in paying tribute to Te Arawa leader and long-time Māori education advocate Sir Toby Curtis who died on Wednesday at his Lake Rotoiti home.
Dr Sir Noble (Toby) Curtis (Ngāti Pikiao, Ngāti Rongomai, Te Arawa) was 82.
Tributes have flowed in from around Aotearoa, highlighting his contributions to education, Māori and to Rotorua. Sir Toby held many leadership roles in his career, which have largely been in the education and broadcasting sectors.
He was knighted in 2014 for his services to Māori education.
Prime Minister Jacinda Ardern told media in Auckland on Wednesday afternoon she was saddened to hear of Sir Toby's passing.
"He was a huge advocate for his people and a huge believer in the power of the education system when we get it right."
Ms Ardern added that many people would have seen the impact he had across the country, over many years of hard work.
HPF's Executive Director Sione Tu'itahi said HPF, and the International Union for Health Promotion and Education would also always be thankful to Sir Toby for providing support, on behalf of mana whenua through the Te Arawa Lakes Trust of which he was chair, for the 23rd World Health Promotion Conference in Rotorua in 2019.
"That support was a significant contribution to our mahi in Rotorua, and the conference, not to mention the ongoing work that stemmed from the conference on indigenous knowledge and health promotion," said Mr Tu'itahi.
"Our thoughts go out to his whānau at this time."
In his support letter for the conference Sir Toby said hosting the conference in Aotearoa New Zealand was significant because it would provide an opportunity to look at the work being undertaken in relation to indigenous Māori health and health promotion.
Sir Toby said their ancestor Te Rotoruanui-a-Kahumatamomoe (Lake Rotorua), together with their esteemed mountain – Ngongotaha, would be "privileged and honoured to welcome the conference guests from all corners of the globe".
"While the 14 lakes in the Rotorua region are accredited as the iconic jewels of the nation, it is the visual splendour of Lake Rotorua (Kahumatamomoe), that will touch the minds, hearts and spiritual essence of all our conference manuhiri (visitors)."
Rotorua mayor Steve Chadwick said Sir Toby's death would be widely felt.
She said he was a deep intellectual, witty and influential, someone who didn't suffer fools and who was a strong advocate for young people and for Rotorua.
"He was also a man with a deep love for his whānau, his whenua, his people and our country.''
Te Tatau o Te Arawa chairman, Te Taru White said Sir Toby's priorities were always around advancing the cause of his people, and his work gave young people a brighter future.
"I would like to think that our leaders will continue his legacy."
Moe mai ra e te Rangatira