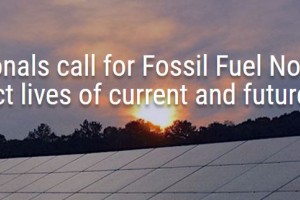 Call for fossil fuel non-proliferation treaty
HPF has signed an open letter calling for a Fossil Fuel Non-Proliferation Treaty to protect the health and lives of current and future generations.
In the letter health professionals and organizations are calling on governments around the world to develop and implement the treaty, laying out a legally binding global plan to:
-End expansion of any new fossil fuel infrastructure and production
-Phase out existing production and use of fossil fuels in a fair and equitable manner in line with the 1.5C global climate goal.
-Fast-track real solutions and ensure a just transition for every worker, community, and country creating a healthy and sustainable future for all.
Like the Framework Convention on Tobacco Control, the proposed Fossil Fuel Non-Proliferation Treaty would be an evidence-based international agreement to control a category of substances well-known to be harmful to human health.
The health risks associated with fossil fuels are numerous.
You can view the open letter HERE and consider signing as an individual or organisation.