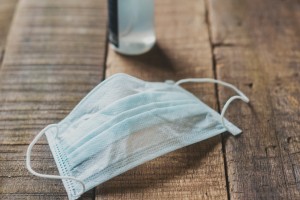 Mask up this winter
As we see a peak of Covid cases and winter illnesses, such as influenza this winter, Kiwis are being urged to 'mask up!'
New Zealand is in the orange traffic light, with an emphasis on mask-wearing and vaccinations and widened access to free RATs.
The reminder about the importance of mask-wearing comes as an increasing number of people are not wearing a mask, as evidenced by a visit to Auckland mall Sylvia Park recently. Maskless shoppers were spotted in huddles having animated conversations, browsing around in poorly ventilated packed stores and one man was seen coughing and spluttering away without covering his mouth.
Director General of Health, Dr Ashley Bloomfield acknowledged in a recent press conference that mask use across the country was sub-optimal and urged people to recommit.

"Mask-wearing should be like wearing a seatbelt. That's why we still have an order requiring people to wear them in some indoor environments, and we are encouraging people to wear them in other indoor environments," he said, including schools.
Retail NZ chief executive Greg Harford has also encouraged shoppers who don't want to wear one to stay away from shops, and shop online.
Microbiologist Dr Siouxsie Wiles said in a recent radio interview that there was too much disinformation about claiming mask-wearing was unsafe or ineffective.

"We've just got some data from looking at some of the schools in New Zealand that kept their mask mandates and they've had far fewer illnesses and staff illnesses than those schools that said it was okay to only wear them if you wanted to wear them so we know they work ..." Dr Wiles said.
Listen to Dr Wiles' interview HERE.
Prominent epidemiologist Professor Michael Baker wants to see much wider mask mandates, saying in an recent interview with Radio NZ that much more was required to prevent the worst outcomes of a "really grim winter".

The roll-out of free masks, while positive, would make a "fairly small" difference to the Covid-19 outbreak, said the University of Otago Professor.
He said New Zealand needed to shift to becoming a "mask-using society", which he believed could be achieved only through mandating their use in most indoor environments.
The very ad hoc approach to requiring mask use is eroding the social licence for them," Baker said.
"You go to one social event, and everyone's wearing a mask, and so you feel comfortable. Next day, you go to a different one, and no one's wearing a mask, except you, and that feels a bit odd. We need to get rid of those inconsistencies."
Face masks are a way we can protect ourselves and others. It's a small inconvenience, and one we should all be used to by now, we've had long enough to get used to them!
As Dr Bloomfield pointed out "mask wearing should be just like wearing a seatbelt".
Click HERE for healthy habits, including wearing face masks.
UPDATES on Covid-19 numbers and winter illnesses.