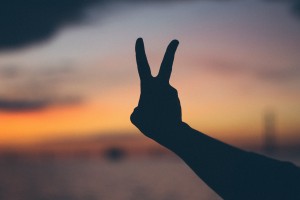 OPINION: Women's role in sustaining peace more critical than ever
By Sione Tu'itahi
Ten years ago today, on my only granddaughter's third birthday, I wrote that it is my wish that she grows up in a world that is peaceful and safe.
Like all grandparents of the world, my wife and I celebrated our granddaughter's 13th birthday today with love and
hope. Hope for a peaceful world is the first determinant of health that the Ottawa Charter talks about. But it is yet to be a peaceful world.
Mothers and children, especially their daughters, are the ones who suffer most when there is conflict, violence, and wars. Just look at the Ukraine and Israel/Gaza fruitless wars, and other flashpoints around the world.
Wars are the violent end of geo-political conflicts, one of the five dreadful components of the polycrisis our global community is being confronted with. All inter-connected and human-induced, the other four are economic crises, planetary catastrophes, health calamities, such as pandemics, and moral bankruptcy.
The Geneva Charter for Well-being, the latest health promotion charter from the World Health Organization (WHO) articulates these global challenges and underlines the urgency of creating sustainable "well-being societies," committed to achieving equitable health now and for future generations without breaching ecological limits.
On 25 October, the United Nations marked the adoption in 2000 of the Women, Peace and Security (WPS) to improve the protection of women and girls during conflicts, and recognize their leadership and unique roles in peace processes.
Today, more than 600 million women and girls live in conflict-affected countries, according to the UN.
In 2022, the United Nations verified nearly 2500 cases of sexual violence mostly against women in conflict zones.
That same year, over 30 women human rights defenders were killed in those zones. Many more such crimes against women and girls go unreported and continue with impunity.
Despite such worrying trends, many peace processes and negotiations take place without female mediators and/or signatories, with significant impact on gender-sensitive provisions designed to protect and include women and girls.
Last year, globally only six out of 18 peace agreements included gender-sensitive provisions, and just one was signed or witnessed by a representative of a women's organization, according to UN Women.
As we face unprecedented levels of human suffering due to conflicts and crises across the world, undoubtedly with devastating impact on women, we look at why their role in preventing conflicts and sustaining peace has never been more critical.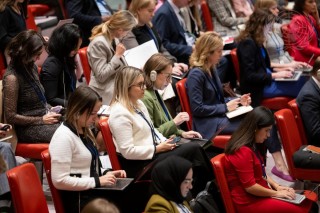 Twenty-three years after the adoption of the landmark UN Security Council resolution on women, peace and security, their presence is still woefully lacking at negotiation tables, UN Secretary-General António Guterres said.
(Pictured left: Delegates in the Security Council Chamber during the Council meeting on women and peace and security, with a focus on women's participation in international peace and security: from theory to practice. NY, US, Oct 25. UN Photo/Manuel Elías)
Addressing the Council's annual debate on resolution 1325, he appealed for countries to "urgently bridge the gap between rhetoric and reality" through concrete action in the areas of participation, financing and leadership.
"Of 18 peace agreements reached last year, only one was signed or witnessed by a representative of a women's group or organization," he said. Women also comprised just 16 per cent of negotiators or delegates at UN-led, or co-led, peace processes, he added.
War's impact on women
Mr Guterres highlighted how women's contributions are needed in a world that is on a "knife's edge" due to raging conflicts, escalating tensions, coups, rising authoritarianism, climate chaos, the nuclear threat, and other crises.
"Where wars rage, women suffer. Where authoritarianism and insecurity reign, women and girls' rights are threatened. We see this around the world," he said, pointing to situations in Afghanistan, Haiti, Sudan, Ukraine, and the recent escalation in the Middle East.
"Women and girls are among the many victims of Hamas' brutal atrocities," he told the packed Council chamber.
(Pictured: Guterres addressing the Security Council meeting on women and peace and security, Oct 25, NY, US. UN Photo/Eskinder Debebe.)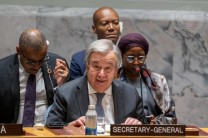 "And women and children are more than half the victims of the relentless bombing of Gaza. Tens of thousands of pregnant women are desperately struggling to access essential healthcare."
Shut out and fed up
Mr Guterres called for the women, peace, and security agenda to be fully implemented now "because women have had enough of being shut out of the decisions that shape their lives".
Women are demanding concrete actions, he continued, with the first step being ensuring their presence in peace talks. He encouraged governments to support conflict mediation to set ambitious targets for women on negotiating teams.
The UN chief also underscored the need for "money on the table", stating that "if we want to stand with women driving change, if we want to support women enduring conflict, if we want to remove barriers to participation, and if we want women's organisations to deliver, we need to pay for it."
(Banner photo by Nathan Fertig on Unsplash)