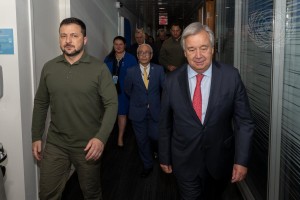 OPINION: Peace is what we need

As world leaders debate in the UN General Assembly this week on the status of our planet and the wellbeing of humanity, HPF's Executive Director Sione Tu'itahi reflects on health promotion and peace its first pre-requisites for the health of humanity and the wellbeing of the planet.
Peace is the first determinant of wellbeing listed in the Ottawa Charter, the bible for many health promoters around the world, including Aotearoa New Zealand.
I pointed this out to a fellow health promoter who interviewed me earlier this week, intending to impress on her the essential role of ethics in health promotion.
But she reminded me that those values such as peace and equity in the charter were written some three decades ago when the world began to move out of the cold-war era.
We need peace more today than the 1980s, I replied. Look at Ukraine, the battleground for the multi-party conflagration that is dragging the whole world down.
Addressing the UN General Assembly this week, Secretary-General António Guterres told world leaders and other
delegates "just nine days ago, many of the world's challenges coalesced in an awful hellscape. Thousands of people in Derna, Libya lost their lives in epic, unprecedented flooding. They were victims many times over. Victims of years of conflict. Victims of climate chaos. Victims of leaders – near and far – who failed to find a way to peace.
"Derna is a sad snapshot of the state of our world – the flood of inequity, of injustice, of inability to confront the challenges in our midst," he added.
Guterres' words were a stark reminder that it is not just climate change that we the human family are being confronted with. It is the combined forces of our geo-political conflicts, obsolete economic systems built on self-interest and greed, which has led to the ruining of our planet. This has resulted in the outbreak of pandemics, such as Covid-19, and the increasing number and intensifying natural disasters occurring around the world. However, there is a fifth force, in my view – knowledge and science, without ethics.
We have all the tools and resources to solve our shared challenges, according to Guterres. "What we need is determination. Determination is in the DNA of our United Nations – summoning us with the first words of the Charter:
"We the peoples of the United Nations … determined: Determined to end the scourge of war. Determined to reaffirm faith in human rights. Determined to uphold justice and respect international law. And determined to promote social progress and better lives for all people," said Guterres.
When countries broke those pledges, Guterres pointed out that they created a world of insecurity for everyone, citing Russia's invasion of Ukraine as an example.
"The war, in violation of the United Nations Charter and international law, has unleashed a nexus of horror: lives destroyed; human rights abused; families torn apart; children traumatized; hopes and dreams shattered. But beyond Ukraine, the war has serious implications for us all. Nuclear threats put us all at risk. Ignoring global treaties and conventions makes us all less safe. And the poisoning of global diplomacy obstructs progress across the board. We must not relent in working for peace – a just peace in line with the UN Charter and international law."
He was not alone. Many other leaders called for peace.
President Volodymyr Zelenskyy of Ukraine told world leaders at the Assembly that alongside its ongoing nuclear threat, Russia is also weaponizing essentials like global food and energy markets, and using them "not only against our country, but all of yours as well".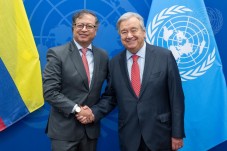 Colombian President Gustavo Petro Urrego (Pictured left with Guterres/ UN Photo/Eskinder Debebe) called at the Assembly, for peace summits to resolve conflicts in Ukraine and between Israel and the Palestinians, so the international community could focus instead on addressing climate change, which he said was "the mother of all crises".
As the crisis of life advances and the is clock ticking, "we decide to waste time killing one another" instead of solving the situation and ensuring a sustainable future," he said.
The peace and equity originally called for in the Ottawa Charter, is amplified by the Geneva Charter for Well-being, the latest WHO health promotion charter, which also calls for a "fundamental redirection of societal values and action consistent with the 2030 Agenda for Sustainable Development."
Ethical and moral principles are our primary assets for building wellbeing and prosperity for all. They inform and canalise our intellectual and physical power, our secondary assets, towards building civilisations that last.
They inspire and enlighten peoples at all levels, from the local to the global. They educate our inner environment.
When the inner environment is enlightened and educated, the external environment will be sustainable, peaceful, and prosperous. Science and technology will serve humanity equitably.
©SioneTu'itahi