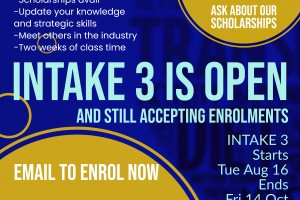 Apply now for short course in health promotion
Spaces are still available for our next Certificate of Achievement in Introducing Health Promotion (CoA).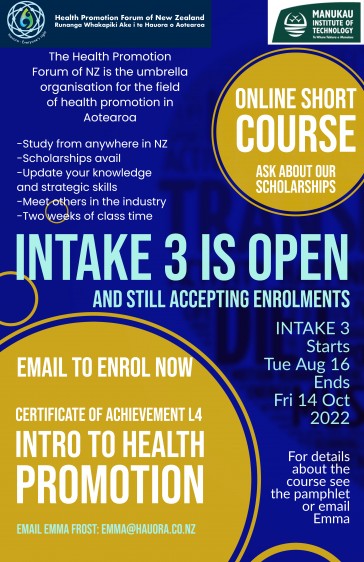 Secure your space now and register HERE.
We also have a limited number of scholarships on offer exclusively for our members. To enquire about a scholarship and for more details email Emma Frost at emma@hauora.co.nz
Course dates:
• Block 1 - Tuesday 16th to Friday 19th August, 2022
• Block 2 - Tuesday 13th to Friday 16th September, 2022
Complete the online registration and contact us for an Enrolment Application form or download the Application form and return by 12th August, 2022.
Jointly offered by HPF and the Manukau Institute of Technology this course will teach you how to:
Demonstrate the skills necessary for effective learning and beginning health promotion practice.
Define health promotion and discuss the values and ethics that underpin health promotion practice.
Identify and explain the significance of key documents relevant to health promotion practice in Aotearoa New Zealand.
Provide examples of a range of key health promotion strategies and tools.
Gain new pathways into higher studies and establish more networks in the health industry.
Course facilitator, HPF's Māori Health Promotion Strategist Mereana Te Pere said offering an online learning option meant that HPF could reach future health promotion leaders from all parts of Aotearoa.
Mereana said the course was an eye opener for anyone working in health, and gave students a broader understanding of what health means in Aotearoa.
"This course equips the learners with strategies and actions plans to address the pressing issues we face today. If you think you know everything there is to know about health, this course will challenge that theory in a fun, supportive and interactive way."
Emily Guyton, a Preschool Oral Health Promoter at the Bay of Plenty District Health Board who recently attended the course said she would highly recommend the CoA to others working in the health promotion and public health field.
"The course was a great refresher for herself, and I was able to relearn the key parts of health promotion. It also allowed me to further my education around Te Tiriti o Waitangi in a supportive learning environment.
"Despite having only finished my Bachelor of Health at the end of 2021 this course helped me see health promotion in a more relevant light and how it can be implemented within my role," added Emily.
"Looking into the social determinants of heath was beneficial as it demonstrated how different aspects of a person's life can affect their overall health which is something I closely look into within my mahi."
COST:
Members: $349.00
Non-members: $499.00
(All prices inclusive of GST)
Terms and conditions apply to cancellations
ABOUT THE TUTOR: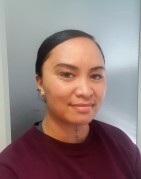 Mereana Te Pere (Waitaha, Tapuika, Ngāti Ranginui)
Māori Health Promotion Strategist
Contact: Mereana@hauora.co.nz
Ph: (09) 300 3739
Mereana joined HPF in 2020 as the Māori Health Promotion Strategist. She comes to our organisation having worked in the education sector with Māori and rangatahi. She recently graduated with a Masters in Educational Leadership with First Class Honours from Auckland University of Technology. She was also honoured with the Deans List award for academic excellence. Her dissertation focused on the challenges for Māori education leaders within the Aotearoa prison system. She aims to base her future doctoral studies around Māori Health Promotion.
Her professional and personal aspirations have centred around developing and advocating for strategies that achieve educational success for Māori, with a focus on supporting Māori learners disenfranchised from traditional methods of schooling and learning. Her future goals are in elevating the skills and knowledge of the workforce to better meet the health needs and rights of Māori communities and whānau. And to influence organisations through governance and healthy policy. Through health promotion Mereana aims to enable Māori communities to achieve a more sustainable and better quality of life.