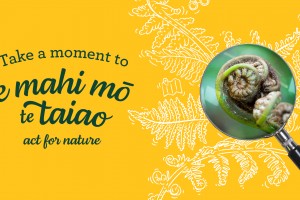 Take time out to act for nature
Aotearoa's wildlife is still in crisis and according to the Department of Conservation more than 4000 of our native animals and plants are threatened or at risk.
This Conservation Week (5 - 11 September) we can all do our bit to take care of our planet, help combat this crisis and do something, big or small to create change.
Every year Conservation Week sees thousands of Kiwis getting involved through doing conservation activities at home or attending one of the many events hosted across the motu. You can even make a difference, starting in your own backyard, or as part of a community group, council, business, or any organisation that wants to do their bit for nature.
Taking action for the health of our planet not only benefits nature, but also our own health and wellbeing.
Looking for ways that you can get involved during conservation Week click HERE.
Ka ora te whenua, ka ora te tangata – when the land is well, the people are well. When Papatūānuku thrives, we thrive.
HISTORY OF CONSERVATION WEEK
Conservation Week was originally launched in 1969 by the New Zealand Scout Association, with the goal to promote greater interest in the environment and encourage people to take practical actions to look after it.
The Nature Conservation Council then had a turn at running the campaign, while other organisations like the Post Office Savings Bank, Caltex Oil NZ, and The Todd Foundation came to the party with educational resources.
Over the years famous artists like Friedensreich Hundertwasser and Don Binney have contributed their art for previous campaigns.
When the Department of Conservation was formed in 1987 it took over the Conservation Week duties, and has since worked with other groups, businesses, councils and agencies to make it all happen. (Source: Department of Conservation)