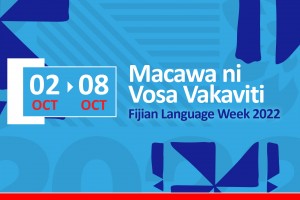 Vosa Vakaviti sustains generations of Fijians
Ni sa bula vinaka and welcome to Macawa ni Vosa Vakaviti – Fijian Language Week!
This year's theme is Me vakabulabulataki, vakamareqeti, ka vakaqaqacotaki na vosa vakaviti, which means, Nurture, Preserve and Sustain the Fijian language.
As a diaspora population, our language, culture and identity is even more vital for our health and wellbeing than before!
Minister for Pacific Peoples Aupito William Sio said the Fijian community in Aotearoa New Zealand should be applauded for their tireless efforts in advocating for and strengthening Vosa Vakaviti.
"Fijians in New Zealand see it as their role to be united in nurturing their language as it can strengthen pathways and resources for learning Vosa Vakaviti, and creating environments where Vosa Vakaviti is used more often, and in more spaces," he said.
"Despite the many influences Fiji has had over past centuries, including from Tonga, Britain, and India, Vosa Vakaviti and the iTaukei Fijian culture has remained steadfast.
"It is up to us, to sustain these pathways which helps generations of people to shape their identity."
The theme is aligned to the overall concept of the 2022 Pacific Language Weeks overarching topic of sustainability and the launch of the UNESCO Decade of Indigenous languages; and the Pacific Languages Strategy.
Start off this week by using some simple phrases, such as 'bula vinaka' to greet someone, 'moce' to say goodbye, or 'kerekere', meaning 'please'!
Connect online by visiting the official NZ Fijian Language Week Facebook page.
Fijian Language Week runs from October 2-8. Visit the MPP website for more information and resources.