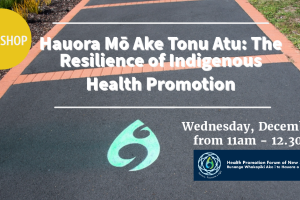 Webishop to discuss resilience of Indigenous health promotion
Registrations are open for our next webishop, where we'll be joined by a panel of health experts to look at the resilience of Indigenous health promotion in the face of political shifts and challenges.
The webishop - Hauora Mō Ake Tonu Atu: The Resilience of Indigenous Health Promotion - will be held on Dec 6 and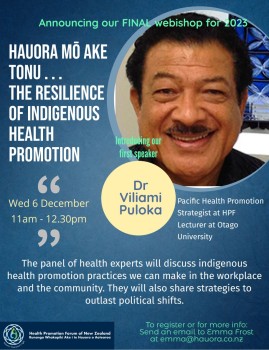 will centre around how Indigenous health promotion is shaping approaches to health promotion worldwide.
It reinforces that we all have the right to high-quality health and wellbeing. It recognises that economic growth must not be pursued at the cost of fertile lands, clean waters, cultural uniqueness, and a self-sufficient ecosystem. For indigenous people, the health promotion approach is a springboard and tool to spotlighting indigenous environmentally lifesaving practices and knowledges. The western world is now starting to open its eyes, and Aotearoa NZ is leading the way.
A key question we'll be asking in this webishop is: 'How can indigenous people continue to survive and thrive through political shifts?'
Our expert panel will highlight the work that has been done to get Indigenous and Māori practices on the world health promotion map.
They will discuss how we can make these changes from in our workspaces, our homes, within our marae and communities, and through our wider regions. And they will share strategies to ensure we outlive and outlast political subjugation.
Key topics:
Evolution of indigenous health promotion into global models of practice

Health Promotion practices – new and future priority and risk areas

Strategies to protect Pacific and Māori Health Promotion approaches.
Our first guest speaker is HPF's Deputy Executive Director (Pacific Health Promotion) Dr Viliami Puloka. Viliami is our Deputy Executive Director (Health Promotion). He also holds the portfolio for Pacific Health Promotion. A Public health physician with a special interest in diabetes and obesity, Viliami brings with him a wealth of Pacific experience; combining his clinical skills and his public health knowledge. He has gained a broad social and cultural appreciation from working with the diverse and unique islands of the Pacific. He has a strong multi-sectoral experience and programmatic approach in capacity-building, project management and community development.
Webishop facilitator is HPFs Māori Health Promotion Strategist, Mereana Te Pere (Waitaha, Tapuika, Ngāti Ranginui.)
Our second guest speaker is Dr Mihi Ratima (Ngāti Awa, Whakatōhea). Dr Ratima is a Health Research Council, Ngā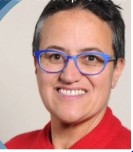 Pou Senior Research Fellow, and a Director of Taumata Associates. A former Associate Professor and Director of Māori Health Research at AUT University, she has worked in Indigenous peoples' health as a Harkness Fellow at Harvard University, a WHO analyst and a Fulbright Scholar, University of New Mexico.
Dr Ratima is also the editor of 'Promoting Health in Aotearoa New Zealand', the first comprehensive text on health promotion in Aotearoa New Zealand, published in 2015. t
If you'd like to check if you are a financial member or for more info email Emma Frost at emma@hauora.co.nz
COSTS:
Non-members: $29 incl GST
Members: $49 incl GST
REGISTER HERE