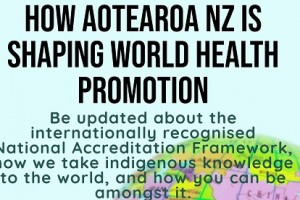 Webishop free for HPF members
HPF is inviting our valued members to join us for a free webishop on Tues, Dec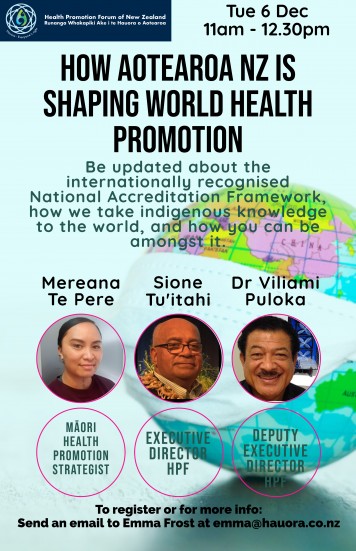 6 to discuss how Aotearoa is shaping world health promotion.
This special offer is our '2022 loyalty gift' to our most valued members.
For non-members, the webishop will cost only $25.00, incl GST. That's a 50% discount!
To find out if you are a member check here or join TODAY and email emma@hauora.co.nz for your special code to register.
REGISTER NOW HERE.
So, come and join us and see how HPF is co-leading the transformation of health promotion at the global level
- By introducing Te Tiriti-based principles and indigenous knowledge
- By co-leadership
- By building a national accreditation organisation
Key topics:
* The foundations of health promotion with a Māori perspective
* Health Promotion Competencies
* Human Rights and Planetary Health approaches
* The digital divide – what this means for equity
Learning Outcomes:
Understand the transformation to health promotion at national and global level
Understand how to adjust your individual and organisational pathway and practice
Join the transformation for co-benefits
Pre-event material:
Resources to read before webinar (these will be sent to registered participants)
Facilitators:
Sione Tu'itahi - Executive Director - Health Promotion Forum Global President - International Union for Health Promotion and Education (IUHPE)
An educator, writer, and international health promotion leader, Sione's areas of interest in health promotion include planetary health, determinants of health, human rights, community development, public policy, and workforce development.
Under his leadership, HPF successfully co-hosted the 23rd World Conference on Health Promotion in Rotorua in 2019 with IUHPE. This was the largest public health conference to be held in Aotearoa New Zealand. He was also instrumental in establishing HPF as a national accreditation organisation under the IUHPE global framework for health promotion accreditation in 2021. In recognition of his significant contributions to health promotion and public health at the national and international levels, Sione was given the 2019 New Zealand Public Health Champion Award by the Public Health Association of New Zealand.
Mereana Te Pere - Māori Health Promotion Strategist
Mereana has worked in the education sector with Māori and rangatahi.
Her professional and personal aspirations have centred around developing and advocating for strategies that achieve educational success for Māori, with a focus on supporting Māori learners disenfranchised from traditional methods of schooling and learning. Her future goals are in elevating the skills and knowledge of the workforce to better meet the health needs and rights of Māori communities and whānau. And to influence organisations through governance and healthy policy.
Dr Viliami Puloka - Deputy Executive Director - Health Promotion Forum of NZ Pacific Health Promotion Strategist
A public health physician with a special interest in diabetes and obesity, Viliami brings with him a wealth of Pacific experience; combining his clinical skills and his public health knowledge. He has gained a broad social and cultural appreciation from working with the diverse and unique islands of the Pacific. He has a strong multi-sectoral experience and programmatic approach in capacity-building, project management and community development.