Pacific models of health are the result of Pacific scholars developing academic tools based on indigenous Pacific concepts, knowledge, values, and practices. Indigenous means 'pertaining to the first or original inhabitants of a place'.
Māori are the indigenous people (Tangata Whenua) of Aotearoa New Zealand.
Pacific refers to the diverse ethnic groups in Aotearoa New Zealand that trace their origins to indigenous peoples of the island nations of the Pacific such as Tonga, Samoa, and Cook Islands.
Examples of Pacific models of health
Fonofale model – Pan-Pacific & Samoan (Fuimaono K Pulotu-Endemann
Fonua Ola model – Pan-Pacific & Tongan (Sione Tu'itahi)
Kakala model – Tongan (Konai Helu-Thaman)
Fa'afaletui model – Samoan model (Carmel Peteru & Kiwi Tamasese)
Ta and Va – Tongan model ('Okusitino Mahina)
Te Vaka Atafaga – A Tokelauan assessment model (Kupa Kupa)
Tivaevae model – A Cook Island model (Teremoana Maua-Hodges)
(Health Navigator NZ)
The list provided here does not include all Pacific health models as many are being developed and used as we talk.
Most of the models are country-specific in origin, but others are pan-Pacific reflecting the diversity of the Pacific peoples and communities. Some of the models are metaphors like Fonofale, while others are based on natural and social realities such as Fonua-Ola.
Each of the models provides some relevance and meaning to the different cultural practices of the Pacific communities. Some of the models are more appropriately used as research models while others are used with reference to health in general.
FROM FONUA TO FONUA OLA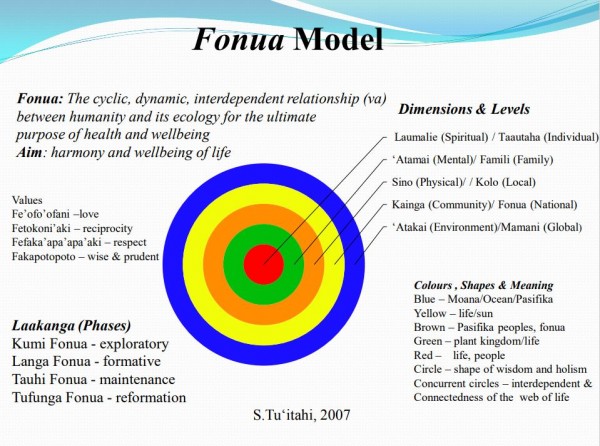 The Fonua model is a Tongan framework to health which comprises five dimensions of life which are inter-dependent and complementary to each other. To maintain harmony in life, health issues must be addressed at all dimensions (Tu'itahi, 2007). In addition to the five dimensions, there are four phases in the natural order of Fonua (Sione Tu'itahi, 2009).
In the Fonua model their are five Dimensions and five Levels. The five dimensions are: Laumalie - Spiritual, 'Atamai - Mental, Sino - Physical, Kainga - Collective/Community and 'Atakai - Environment. These five dimensions are inter-woven like a mat. All must be cared for equally in order to maintain holistic wellbeing.
The five levels are: Taautaha - Individual, Famili - Family, Kolo - Local/Village, Fonua - Nation and Mamani - Global Society.
IN 2017, 10 YEARS AFTER THE FONUA MODEL WAS INTRODUCED TO THE HEALTH AND EDUCATION SECTOR THE MODEL WAS REVAMPED WITH FURTHER RESEARCH BY THE AUTHOR, SIONE TU'ITAHI.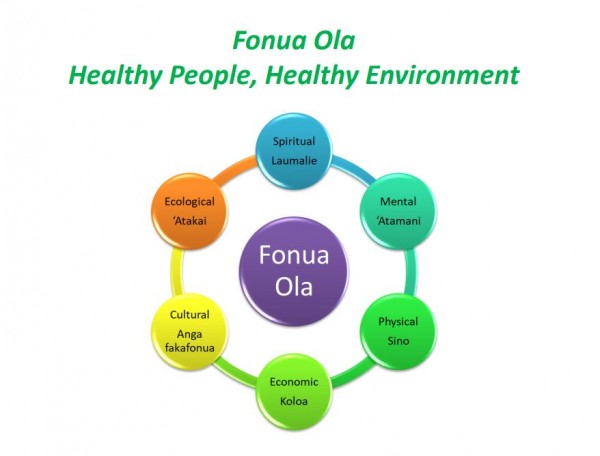 The main reasons were to add two equally important dimensions of wellbeing: cultural and ecological that were implicit in the previous design. Also to make more explicit the health-oriented purpose of the model.
Fonua means people and their environment

Ola is an Indigenous Pacific term, that means holistic wellbeing as in Whanau Ora, Waiora, Vaiola, Enua Ora.
DOWNLOAD THE FONUA OLA LECTURE POWERPOINT (2015):
Watch the webishop on 'Fonua Ola and Covid-19: A health promotion way of building the capacity of Pacific families' HERE.
FONOFALE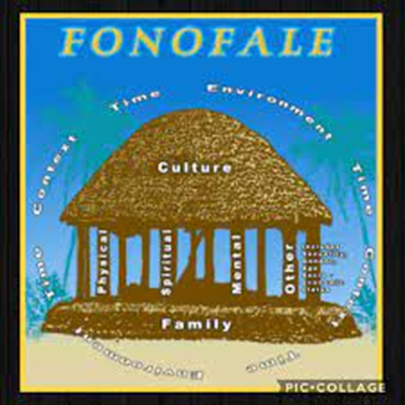 The Fonofale model incorportates the values and beliefs of Samoans, Cook Islanders, Tongans, Niueans, Tokelauns and Fijians. Similar to the Fonua model, health encompasses different foundations of life including family, cultural values and beliefs, spiritual, physical, mental and other. These foundations are interrelated and health is about maintaining and sustaining balance between these foundations (Pulotu-Endeman, 2001).
A hard copy of the paper Fonofale Explained, which explains the model, was distributed to those participants who attended the workshop on Pacific models for health promotion that was held at Massey University, Wellington on September 7, 2009.
The author gave permission for this paper to be posted on the Health Promotion Forum of New Zealand website.
You can view the paper HERE.